PRODUCT OVERVIEW
KITO Wire Rope Hoist
Kito's Wire Rope Hoist series come in a variety of models such as the Single-speed Winding Hoist, which has an excellent winding engine for different models of cranes, and such as the Explosion-proof Type and Long-lifting height Type to meet diversifying needs. All models of the wide selection range offer outstanding ease-of-use, helping rationalize load handling operations, save labor, and raise work efficiency.
Types of Wire Rope Hoists (Construction)
Regular ype
Motor operated traversing hoist
This hoist travels in parallel to the traverse rail by motorized trolley. (This type is most universally used.)
Low Headroom Type
Motor operated traversing hoist
When this hoist performs hoisting to the upper limit, the distance between the bottom surface of the rail and the center of the hook becomes very short. (This type is most suitable for use in a place with a small height of ceiling.)
Double Rail Type
Motor operated traversing hoist
This hoist travels on the 2 rails of the hoist type overhead crane in the traverse direction.
(Its stability is extreamely high. In particular, this type is often used for a large capacity.)

Suspension Type
this hoist is fixed at the ceiling and used only for lifting and lowering cargo.
K Series
High Frequency Use Type
8t to 45T
F Series
Medium Frequency Use Type
1t to 3t
Explosion-Proof Type
500kg to 60t
KITO Mighty
KITO MIGHTY CB SERIES
MANUAL CHAIN HOISTS MODEL M3 500KG TO 50T

Extraordinarily compact, light, and easy to use.

Excellent workability thanks to maximum mechanical efficiency, requiring the least manual force.

Excellent durability because of the top-grade load chain (rupture stress: 1000N/mm2 or higher).
---
KITO UNIVERSAL TROLLEYS SERIES
MODEL TS 500kg to 5t
Wheels are specially machined and heat-treated for exceptional durability.
Extra-light structure is achieved due to strict design conditions.
Protective bumpers protect the wheels in case the trolley collides with the stoppers at the ends of the rail or collides with another trolley.
Trolleys can be installed on either I-beam or H-beam rails.
Specially designed for smooth running; the rail width can be adjusted easily.
All four wheels feature high-grade closed ball bearings that do not require lubrication.
Plain Trolley
Geared Trolley
500kg to 3t
3t
1t to 3t
5t
---
KITO LOW HEADROOM TYPE
MANUAL CHAIN HOIST 1t to 20t

The Kito Low Headroom Type manual chain hoist is designed with an ultra-small dead space compared to standard models. The chain hoist, designed with all the beneficial design specifications of Kito MIGHTY, provides high ease-of-use, quality, and performance.
KITO CF Series
MANUAL CHAIN HOIST MODEL CF4 500kg to 5t

Daringly designed special aluminum alloy body.
All bearings in the main body are ball bearings.
Disassembling and assembling for maintenance are extreamely easy.
Excellent durability because of top-grade load chain (rupture stress: 1000N/mm2 or higher).
KITO LB Series
LEVER HOISTS MODEL L5 0.8t to 9t

Kito's innovative technology makes this new model smaller and lighter than ever before. It's easy to carry and store, and the LEVER BLOOCK™ is much easier to use, even in a narrow working spaces.

Kito's original free chain adjusting mechanism greatly improves the working efficiency.
The grade 100 (1000N/mm2) chain features an unbeatable combination o toughness and resistance to corrosion & wear.
The LEVER BLOCKS™ are made by Kito's reliable design which is superior to world standards.
KITO Clip



Kito Clips are special fixtures for wire rope. They are developed for applications where ropes are used with lever hoists or chain hoists.
Clips can be used in any desired position on a wire rope.
Inserting a wire rope in a clip and pulling the clip makes it grip the wire firmly.
The original groove design protects the wire surface.
Their combined use with a lever hoist improves efficiency and economy.
KITO LX Series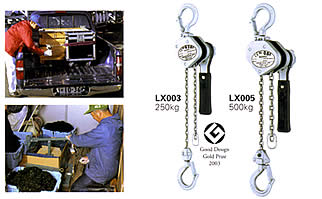 Kito LEVER BLOCK™ LX series is available in two capacities: 250kg and 500kg. Extremely compact & light, these LX series hoists are suitable for work in tight quarters or elevated locations where fastening, fixing, or positioning of light load is required.

Back to Top